CALM WATERS
Mária Švarbová (1988, Slovakia) originally studied conservation-restoration and archeology before dedicating herself to photography in 2010. Regarding her largest series, 'Swimming Pool', originating in 2014 and continuing to develop to date. The building is 80 years old and dates back to a time when swimming was more of a social duty than a sport, which is maybe why it's such a sterile place. She was struck by the calmness of the water, its mirror-like reflections and the many 'No Diving' signs!
There is almost a theatrical quality to the highly controlled sceneries that Mária captures. The figures are mid-movement, but there is no joyful playfulness to them. Frozen in the composition, the swimmers are as smooth and cold as the pools tiles. The colors softly vibrate in a dream-like atmosphere. Despite the retro setting, the pictures somehow evoke a futuristic feeling as well, as if they were taken somewhere completely alien.
I first came across the hauntingly still photographs of women in socialist-era public swimming pools while browsing Instagram. I immediately loved the beauty and serenity of her colorful pictures. Mária Švarbová's work on the series In the Swimming Pool earned her a 2018 Hasselblad Masters Award in Fine Art Photography.

Mária Švarbová loves to create compositions that touch our feelings with unusual scenarios. Her photographic work moved from traditional portraits to capture wider topics, generating works with unmistakably characteristic atmosphere. Adressing the loneliness and isolation of contemporary life, her artwork manages to be both non-sentimental and emotionally powerful. Cool stillness, a striking color palette and unspoken tension led to her specific signature style.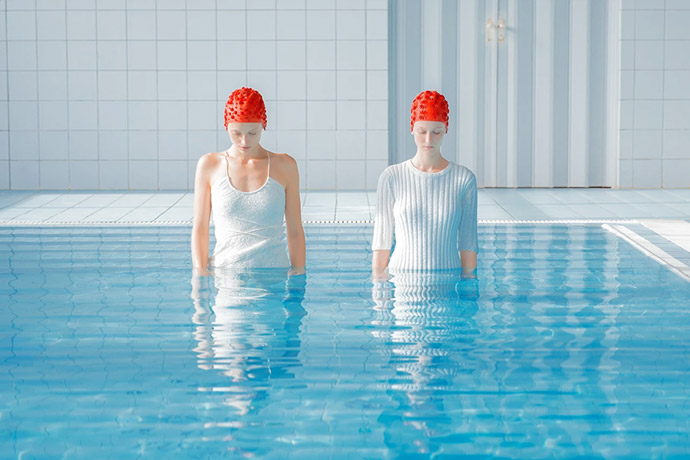 "People fascinate me. Space has no meaning without humans. The same also goes the other way around. Humans have no meaning without space. The main focus of my series was to harmonize the humans and space." — Mária Švarbová
In 2014, aware of Švarbová's interest in architecture and public spaces, a friend suggested she scope out an 80-year-old pool in her hometown of Zlaté Moravce that had once belonged to a local high school. Though it had been closed for more than a decade, Švarbová was surprised to find the pool full and the space pristine. When she saw this first swimming pool, I was definitely fascinated by the architecture of this large open space. She prefers swimming pools that are old and without reconstruction so you can see a timelessness. Švarbová photographed 13 pools in 13 Slovakian cities. They were all built between 1920 and 1970. Their stark colors, repetitive lines, spaciousness and lack of ornamentation exemplify the functionalist architecture that dominated the region from 1948 to 1989, when Slovakia — then part of the former Czechoslovakia — was a communist state.

Although the photographer has always chosen to depict people as the main subject matter of her art, it's easy to question, at least at first, if in this series the photographed subjects play a supporting role to the main star, the public swimming pools found throughout Slovakia. The series' strong visual identity uses the swimming pool locations as austere geometric backdrops. Within these, the female subjects stand out, not thanks to any movement or feeling emoted from their controlled poses — as they actually appear to be almost frozen, like mannequins — but due to their brightly colored swimsuits and swimming caps that pop as the statement elements of each composition.

Švarbová enlisted models in primary-colored swimsuits to adopt angular positions inspired by the Spartakiads, mass gymnastic events organized by the communist government where thousands of participants performed routines in unison. In post-production, bodies were multiplied, colors were enhanced and asymmetrical elements were erased. The carefully composed result is both serene and surreal; an imperfect world, unnervingly perfected.
"For me, it's sci-fi, it's futuristic. I like to combine in my work old things — for example, architecture from the communist era — with modern things. I would like to show people something new, where there is old and new with each other." — Mária Švarbová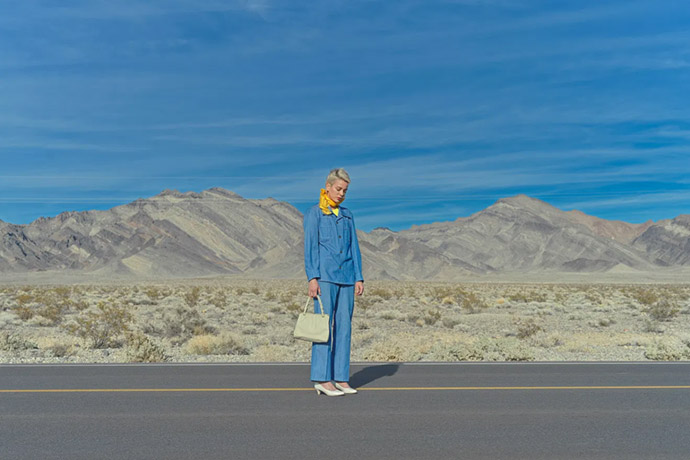 In her latest series entitled Lost in the Valley, Švarbová photographed female models in desert landscapes with a sweet set of apparel and colors; creating a distressful and, at the same time, an attractive atmosphere. Švarbová demonstrates her excellent eye for color, composition, and not least, fashion. Throughout the series, the elegant shots of wide landscapes and huge skies draw the eye to the horizon, urging the viewer to appreciate the scope of the picture while enjoying the juxtaposition of the characters who mark the foreground. Who is this woman in a swimsuit and chic vintage attire offering salutations to the desert sun? Balancing elements of fashion and fine art photography, the series is as mysterious as it is striking.

As a world-famous photographer she gets many offers for cooperation from brands. Recently, Mária Švarbová and her agency in Asia rejected the global representatives of Huawei, Samsung and LG. They wanted to promote their brand too much on Instagram and Švarbová didn't completely agree with that point of view. She couldn't imagine ads with her photography on a smartphone. On the other hand she perceived the cooperation with Curaprox toothbrushes completely differently. They gave her the opportunity to design her own toothbrushes. She didn't just want her photo on the background of the brush so she created a limited edition for the brand. She made six designs in one day. They agreed on a Swimming Pool edition because Swimming Pool is currently her most popular series.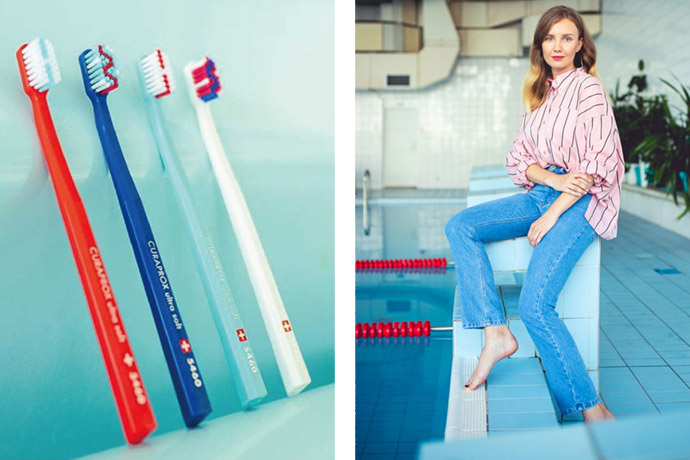 Photos © Mária Švarbová
---
Related stories in Woodland Magazine: