VICTORIAN-ERA POOLSIDE
Soo Burnell is an Edinburgh based photographer. Her collection titled 'Poolside', which focuses on her passion for architecture. Soo captured the architecture of historic swimming pools by highlighting the striking geometry, dramatic proportions, the stillness of the water and dreamy colour palette of each space. Focussed on careful composition with the inclusion of statue-like figures — who wear vintage swimming caps as a nod to the period of the architecture — to scale the architecture. The effect is minimal and restrained yet also dynamic in proportion and detail, as Soo offers a mesmerising glimpses into these 'hidden' spaces.
I first discovered the swimming pool photographs of Soo Burnell when I was wandering through the online galleries on Lumas. Their collections consist in a wide array of fine art photography and fine art prints, even in limited-edition.

Soo Burnell (aka Susan Burnell) works as a photographer for many years, combining her two passions of architecture and portraiture. She started photographing Victorian swimming pools in January 2018. She's been really inspired by the idea of having a slightly quirky Wes Anderson (The Life Aquatic, The Grand Budapest Hotel, The French Dispatch) feel to her photographs, especially with the pastel color palette, and with the swimmers adding both a human element to each scene along with a dreamlike quality.

Photographer Soo Burnell documents the enduring beauty of the stunning Victorian-era pools. People remember going to these pools years ago and everyone has a real fondness for the pool they grew up close to. Burnell has done lots of research looking for pools and she hasn't found anywhere that still has so many of these old pools open as there are in Edinburgh. It's a bit of a trip down memory lane for lots of people and there is a real sense of nostalgia around these pools. The photographer admits to being drawn not just to their stunning architectural details, but to the nostalgia each place brings as well. Still in use by communities, each location offers its own charm and quirks, which Burnell makes sure to capture as much of while still retaining her signature minimalist aesthetic.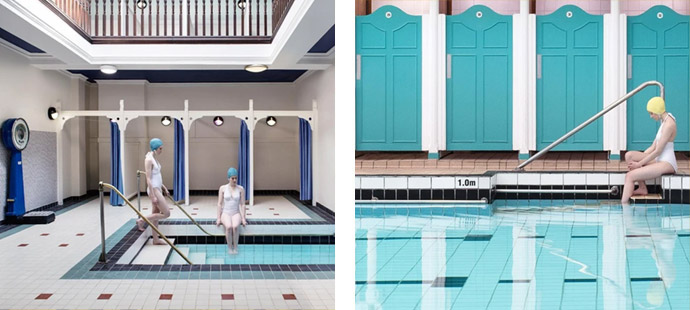 "I love the geometry of the tiles, the lines on the bottom of the pool, and the typography including the 'Deep End' signs." — Soo Burnell
Burnell has since photographed six Victorian-era swimming pools across the Scottish capital: Glenogle, Warrender, Portobello, Leith Victoria, Dalry and Drumsheugh Baths. Many of these facilities have their roots in a wider scheme from the mid-to-late 19th century which saw public baths built to promote cleanliness and hygiene amongst the working classes who did not have access to sanitation. In a later series, Burnell spent time photographing the Western Baths Club in Glasgow and has added the Edwardian-era Victoria Baths in Manchester, as well as the late 1920s art deco delights of Marshall Street Baths in London and Molitor in Paris, to her growing collection.

Every shoot is different. Manchester's pool isn't currently used for swimming, it's being used as an event space until funding is available to renovate it, so there is no water in those pool pictures. Even without the water, it is still a beautiful space, with floor-to-ceiling tiling, incredible windows and mahogany banisters. The shooting at the Commonwealth Pool was completely different from the other Edinburgh pools she's photographed. It's bright and chaotic, with lots of concrete and lovely angles.

Soo Burnell introduced swimmers to the photographs to give a sense of perspective, it's difficult to appreciate the size and scale of these spaces without a reference point. The models reflect the graphic minimalism of the pools — she didn't want anything fussy, so the simple vintage bathing suits and swim caps add to that graphic element. She's managed to get access to most of the pools when they were closed to the public, although that wasn't possible when photographing the Molitor in Paris. When she got there at 5am, there was already a queue of French gentlemen lined up in white towelling robes all ready for their morning swim.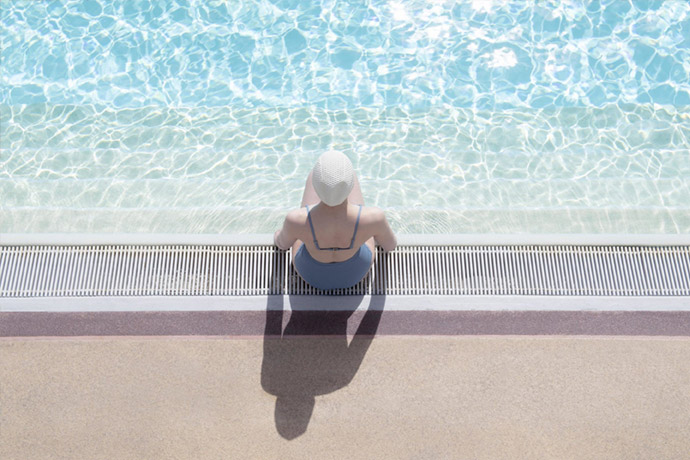 "For me, photography is all about following your passion – finding something you love is where inspiration comes from. I love water and I love architecture – I feel drawn to these historic swimming baths." — Soo Burnell
There is something very restful about gazing at Burnell's work. You can almost hear the silence when looking at her photographs. "It is so magical being in there when nobody else is," she says. "It is still and quiet. The acoustics are amazing. I can't get across enough the calmness and stillness of the water. They are just my favourite places to be and such beautiful spaces"

If you're interested to read more, check out this interview by Susan Swarbrick for The Herald Scotland.
---
Related stories in Woodland Magazine: